Office Coffee and Water Services in Lansing, Michigan
Never go a day without coffee at your workplace. Trust Great Lakes Vending Services for all of your office coffee and water needs!
Commercial Coffee Service You Can Rely On
We offer traditional coffee services as well as a host of other products. One thing that remains the same – we fit our service to meet your needs. Perhaps you need an airpot brewer for meetings or a single cup brewer in the executive lounge. No matter what you're looking for, we're confident we have it!
One size does not fit all – customizing your location to serve the needs of your customers and employees is our specialty. We offer a wide variety of coffees, teas, and cappuccinos, incorporating name brands with house and specialty offerings.
Keep your staff caffeinated and happy with our customized coffee solutions. Our top-of-the-line coffee machines are ideal for any size office or situation. When you work with us, the options are limitless!
Office Coffee and Water service products
EcEco Thermal Coffee Brewer
K-Kup Brewer
Single Cup Pod Brewer
Countertop Water Dispenser
Floor Water Dispenser
Water Coolers
Bean to cup
Office Water Service Catered To You
We offer a variety of waters, including spring water, purified water, artesian water, and more. Our variety of products and convenient solutions make us the go-to office water supplier in Mid-Michigan.
Concierge Services
We design our concierge services around you. Vending services are not for everyone, many workplaces wish to offer beverages, snacks, and even workplace materials at no charge. We bring you the items you'd like to offer. We're all doing more with less these days and we're here to help you accomplish that goal. Whether it's a bowl of fruit or stocking a refrigerator with beverages – we provide it. Whatever you need, we'll do our best to get it. Get rid of those snack boxes and try a concierge service where you order what you want, not just accept what is brought to you. Think outside the box!
The Right Choice For You
At Great Lakes Vending Services, we're always looking for better ways to do business and serve our customers through innovation and product knowledge. If you're looking for something specific or aren't sure what exactly you need, call us and we can help! No matter your needs, we're the right choice for you.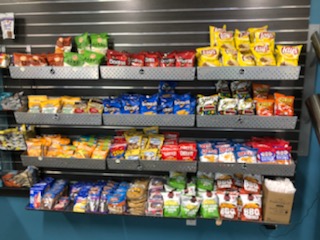 For more information, call Great Lakes Vending Services for a free consultation at (517) 323-4995.